Electrical measurements laboratory RCI Consulting provides services for electrical measurements:
measurement of insulation resistance of cable lines, power transformers, electrical installations, apparatus, secondary circuits, wiring (range from 0 to 10,000 MOm),
resistance measurement of grounding devices (range from 0 to 15,000 MOm),
checking of presence and status circuits between the grounded equipment and grounding conductors (range from 0.05 to 20 Om),
impedance measurement loop "phase-zero" in installations with a voltage up to 1 kV,
checking of tripping of protection devices (operability of disconnectors and automatic power-off protection) (range 0.1 to 20 Om, 10 to 1999 A),
our company makes also a visual investigation of electrical parameters of objects:
checking of bolted and welded connections of contact,
checking of element corrosion.
All results of the measurements and tests are mentioned in the technical report which includes protocols of electro measurements. There is described in detail the condition of the electrical power grid, its compliance with current regulations, and given recommendations how to avoid problems.
Technical report consists of:
cover page with details, addresses and telephone numbers of electro laboratory,
content,
explanatory note,
list of used measurement and / or test equipment and certificates,
protocol of visual investigation,
measurement and / or testing protocols,
list of identified defects,
attestation certificate of electrolaboratory.
Each protocol of electro measurements and visual investigation is signed by the chief of electrical laboratory and engineers who takes part in measurements, as well as the stamp of the electrical laboratory.
Technical report is mandatory for non-residential premises (offices and industrial premises) and is submitted on request of inspecting authorities (Fire inspection, inspection Energonadzor).
RCI Consulting electrical laboratory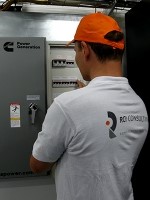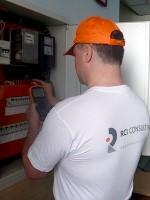 Electrical measurements laboratory RCI Consulting has all the required certificates and Ukrainian legislation permits (certificate SE "Ukrmetrteststandard" № PT-196/14 from 10.06.2014). Highly qualified staff of electrical laboratory work only on modern measuring equipment during diagnostic and measurement.
Certificate